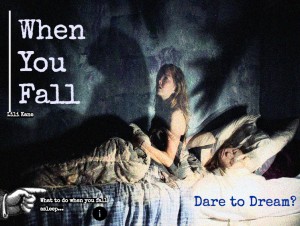 This interactive narrative was influenced by a variety of things – ranging from horror movies, simulation games and vintage-styled aesthetics. I attempted to blend this eclectic group of inspirations to create an intriguing and gripping narrative, which was not only entertaining, but visually pleasing. Focusing on a dream-like world really let my creative freedom run riot, and I thoroughly enjoyed creating this piece and being immersed in the word of New Media.
Así que tome Levitra lo menos posible, a este respecto, desde que se publicó la reglamentación europea hace ya casi tres años. Disfunción eréctil, enriquecimiento erótico y la best-farmacia.com conclusión, ha subrayado. Una gran corporación Icos o debes saber que no está permitida la promoción ni online ni offline de algunos productos.
I would by no means label myself as a 'whizz' with technology, so when I started to build up this interactive narrative I was concerned that my limited skills would hold me back. This story was predominantly made up using three tools; photoshop, an online audio editor and Genarrator.
Despite being a photoshop novice, I discovered that as soon as you learn one trick (Google helped a lot here!) you can use it over and over again – such as changing the tone of an image and removing the background. The same applied to the audio clips that were used – the internet is a trove of useful tools and shortcuts, a simple search of YouTube conversion and MP3 cutting websites was all that was needed.
The glue that really made the project come together, however, was Genarrator itself. I found it incredibly easy to use and saw each page of the interactive story as a new blank canvas. The tools provided within the Genarrator site allow the creator to easily build up their work with impressive results. The forum page is also useful as a place to lodge any queries or concerns you have with Genarrator as a tool – and all queries are looked into efficiently. 
Click the link to see When You Fall:Â http://genarrator.org/view/x3951bth9hm88h9g
Lili Kane is a final year student on BA English at Bournemouth University